Famous Faces
The North East of Scotland has produced, and been home to, some truly inspirational men and women. Pioneers, adventurers, inventors, the fine folk of the North East have trail blazed their way across Scotland, Britain and the World.
Beginning in Aberdeenshire, we've selected just a handful of these heroes and heroines to celebrate over the course of the year. Each month, the spotlight will fall on a new individual. Some are 'weel-kent faces' but others you may not have heard of before - you may be surprised by what you read!
Banff and Buchan
General Hugh Mercer (1726 - 1777)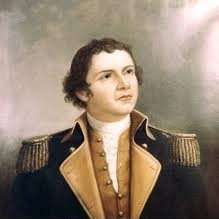 Born in 1726 in Pitsligo, Aberdeenshire, Hugh Mercer was the son of William Mercer, Minister to the local parish. He studied at Marischal College in Aberdeen, before joining the Jacobite forces as a surgeon. Following their defeat at the Battle of Culloden in April 1746 he fled to Pennsylvania in the American Colonies.
Mercer became a frontier doctor, later volunteering to fight in the 'Seven Year's War' from 1754 to 1763 where he rose to the rank of Lieutenant Colonel and served with George Washington.
After the war he moved to Fredericksburg, Virginia and opened an apothecary business. One of his patients was Mary Ball Washington, George Washington's mother. The apothecary still stands today as a museum.
He volunteered again as a Patriot against the British Crown in the American Revolutionary War, and was promoted to Brigadier General on June 1776 by George Washington. On the 3rd January 1777, during the Battle of Princeton, while he was holding off the British, Mercer was unhorsed and attacked, suffering serious injuries. He was rescued by Washington but died of his wounds on the 12th January 1777. He was buried in Christ Church with full military honours.
Through Mercer's courage and sacrifice, Washington was able to proceed into Princeton and defeat the British forces, thereby regaining support. Most of Washington's army re-enlisted, the French finally approved arms and supplies to the Americans, and the British pulled their forces back to New York. It was a key turning point in the war. Today, Hugh Mercer is viewed as a hero of the American Revolution with numerous monuments to his bravery and legacy.
---
Share this information