£100 gift card for low income households
We are sending Aberdeenshire gift cards worth £100 to over 11,000 eligible households across the region. The cards, which can only be spent within Aberdeenshire, are to support both residents struggling with the cost of living crisis and local businesses in the recovery from the pandemic and beyond.
The council allocated £1.3M toward the gift cards. The funding comes from the Scottish Government's Local Authority COVID Economic Recovery Fund (LACER).
View the Aberdeenshire Loves Local Gift Card scheme privacy notice (PDF 135KB) to find out what we do with your information.
Eligible households
The gift cards are for those people in greatest need. Each household in receipt of Council Tax Reduction on 1st September 2022 is eligible (one gift card per household). Households that meet the criteria will not be required to contact us to apply for this card, they will be notified directly. 
Households that are in receipt of any other Council Tax discount or exemption are not eligible unless they receive Council Tax Reduction in addition to this.
Those households who apply for and receive Council Tax Reduction on or after 2nd September 2022 are not eligible.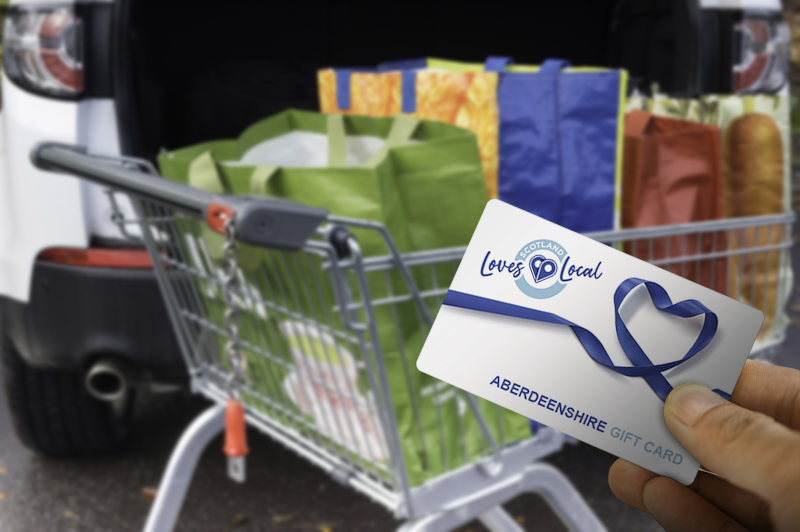 ---
How we are providing the gift cards
The gift card will be sent by post to the Council Tax reduction recipient.
There are 2 letters that are sent to each eligible household. The first letter was sent out on 16th February 2023 and contains the information confirming your entitlement to the scheme along with the activation code for your card. The second letter was sent between 23rd and 27th February 2023 and contains your card. 
You do not need to take any action until you receive the second letter with your gift card.
Activate your gift card
You must activate your gift card within 3 months of receiving it (by Friday 31st May 2023). You will be able to activate it after receiving the second letter.
To activate your card, follow these steps:
Visit the activation website. 

This link will be live and working 

when

 the cards 

have been

 

distributed.
Insert your 16 digit gift card number, this should be entered with no spaces.
Insert your 6 character long activation code from the letter we sent you, the code is case sensitive and contains letters and numbers.
If you need help with activation please 03456 081208 then choose option 6 and we will be able to activate it for you. You will be asked to provide your national insurance number and date of birth to verify your identity.
In order to avoid fraudulent use of your gift card, do not disclose your activation code to anyone else.
Where and how to spend
Once activated, your card will be valid for 12 months.
You can spend your gift card in a variety of businesses across Aberdeenshire which are registered to accept them. You can also spend it online at participating online retailers provided they are registered for online sales. You will need your 16-digit card number and your 6-digit card security code to make online purchases.
Visit where to spend the gift card (by sector) where you will find all the businesses that are signed up to accept the Aberdeenshire Loves Local gift card.
If a registered merchant will not accept the gift card or is having issues with completing a transaction, please email supportsllgc@mi-cnx.com or phone 0121 268 3210 advising of the business details. A customer service representative will contact the merchant.
The value of the card can be spent in several different transactions over multiple businesses. There is no restriction on the type of goods that can be purchased using the card other than the standard age restricted products that apply to any purchases and gambling based products and businesses.
Gift cards can't be topped up with additional funds.
Check balance
There are 3 ways to check your balance left on the card (please have your 16-digit card number and your 6-digit card security code to hand):
Visit the Get My Balance

 

website
Scan the QR code on your card - this will take you directly to the Get My Balance

 

website
Call the balance enquiry number on

 

0121 260 2849
Lost, damaged or stolen cards
Please keep your gift card safe as we are unable to replace lost, damaged or stolen cards that have been activated. If your gift card was lost, damaged or stolen before it was activated please 03456 081208 and choose option 6 for advice. 
Contact
If you have issues with the activation process or require assistance or more information please phone 03456 081208 and choose option 6. The line is open Monday to Friday between 8:45am and 5pm.