Trading standards - Coronavirus
The Trading Standards service is committed to meet statutory regulations and will continue to carry out duties to protect public health, public safety and animal welfare at this time.
On this page you can find out more about:
We also share updates as they become available on Twitter and Facebook.  
Bulletins
Here are links to bulletins that will keep you up to date with most recent scams including coronavirus related scams:
Pricing concerns
Businesses are obligated to display prices under The Price Marking Order 2004. Prices must be unambiguous, easily identifiable, clearly legible and must be on or within the immediate vicinity of a product. Businesses failing to do this may be committing an offence under The Price Marking Order 2004, a matter which can be investigated by the service.
There have been wide reports of profiteering during the coronavirus outbreak. It must however be recognised that some items may increase in price due to increased cost for businesses when there is a limited supply.
How to avoid scams
To avoid scams:
don't click on links or open attachments in emails and text messages unless you are sure they are from a legitimate source - scammers will go to great lengths to make their communications with you look genuine
don't let anyone into your home without verifying their identity and checking they have official documentation or ID card
you shouldn't ever give out personal or financial information over the phone
only purchase goods online from trusted and legitimate retailers and if you have one, use a credit card as this will offer you greater insurance
Report a scam or a business acting unfairly
You can report a scam via Advice Scotland Direct.
Known coronavirus scams
It is always important to be aware of scams but now more than ever you need to be alert as you may find you are seeing more of them as situation with the coronavirus continues. Scams can manifest in many ways – via the post, telephone call, text message, online, by email and on your own doorstep. Many individuals have found themselves in an unprecedented situation working from home or not being able to work at all and as more of us self-isolate and adhere to the lockdown and social distancing rules it also sadly provides an opportunity for scammers to target you when you are at your most vulnerable.
Here are some of the known scams to look out for:
NHS vaccine scam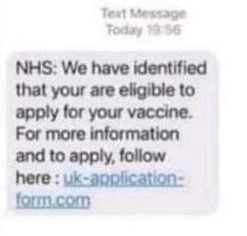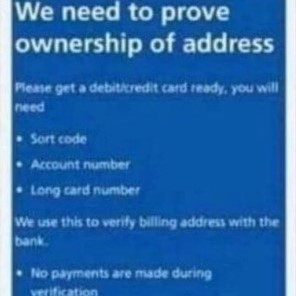 Fake text messages are being issued, as the one shown above, to mobile phone users stating that they are eligible to apply for the COVID-19 vaccine. A link is included, which once clicked on, takes the recipient to a genuine looking NHS website where they are asked to input banking and personal information. The banking information is subsequently used to access the recipients accounts and steal money from them.
We would like to remind residents that the NHS will not ask you for payment or bank details if you are identified as someone eligible for vaccination. If you receive a text message like this, please ignore, block and delete it.
View further information about the NHS vaccine scam.
Anti-virus kits, cures, hand sanitisers and Personal Protective Equipment (PPE)
We would urge the public to be vigilant about products which appear to be making misleading claims, or falsely describing goods or services in relation to the outbreak, for example offering products or services that can cure COVID-19.
There has been reports of fake hand sanitisers, face masks and COVID-19 swabbing kits sold both online and door-to-door. These products can often be dangerous and unsafe. There are reports of some potentially harmful hand sanitiser containing glutaral (or glutaraldehyde) which was banned for human use in 2014.
Products must be labelled correctly and are required to go through robust testing to ensure they are safe. Any claims that are made regarding the effectiveness of them must be substantiated.
There are no CE-marked home testing kits legally available and as such it is illegal to supply such products. View government guidance on testing kits.
Charities
There are genuine charities providing support but ask to see ID before handing over money or letting anyone into your house. Beware of thieves extorting money from residents claiming they are collecting donations for a COVID-19 vaccine.
Banks and council services
A resident reported that they received an unsolicited telephone call purporting to be from their bank and was informing that all transactions had to be completed online or by telephone now that the bank was closed. This was untrue and the scammer managed to obtain a quantity of money from the resident. Banks remain open, although some may have reduced hours or introduced measures to ensure they are meeting the social distancing rules to keep customers and their staff safe. If in doubt contact your bank using the contact details they supplied you with, not those the caller has asked you to use.
Residents have reported receiving unsolicited email from Aberdeenshire Council demanding payment of rent arrears.
Coronavirus maps
Fake online resources such as 'Coronavirus Maps' can deliver malware such as AZORult Trojan, an information stealing program which can infiltrate a variety of sensitive data. A prominent example of a website that has deployed malware is 'corona-virus-map[dot]com'.
Loan sharks
Illegal money lenders are expected to prey on people's financial hardship, lending money before charging extortionate interest rates and fees through threats and violence.
Work carried out by Environmental Health and Trading Standards Officers 
View the work that Environmental Health and Trading Standards Officers have been doing to keep people safe and support businesses in this short video:
---
Share this information