Gypsy Travellers
Gypsy Travellers, or as per official term Gypsy/Travellers, are a recognised ethnic group. They consider the travelling lifestyle part of their ethnic identity and culture. It's difficult to give an exact figure of how many live in Aberdeenshire. A study has suggested there are 100 to 200 Gypsy Travellers living in Aberdeenshire at any one time.
For many Gypsy Travellers their sole accommodation is a caravan. Some live in a house over winter and travel in their caravans the rest of the year. Some Gypsy Travellers live in housing. Not all individuals who identify as being Gypsy Travellers are actively travelling. This may be due to health problems, need for stability and accessing services such as education.
Find out more:
Gypsy Travellers who live on council or privately owned sites or live in council or privately owned housing do pay Council Tax. Gypsy Travellers living on unauthorised encampments can not be charged Council Tax, due to the lack of regulation.
Accommodation needs assessment
Gypsy Travellers, like all members of the community, are entitled to have accommodation which meets their needs, culture and lifestyle. View accommodation needs assessment of Gypsy Travellers in Grampian carried out in 2017:
Gypsy Traveller sites
Gypsy Traveller sites are authorised places of residence which may be owned and managed by the council or privately. Residents on authorised Gypsy Travellers sites pay for their pitches. The current sites in Aberdeenshire are:
Aikey Brae, Maud - stopover site
Aikey Brae Gypsy Traveller site is owned by the council and consists of 10 pitches and a site office. Each pitch has an electric point and a portable toilet and residents have access to water. The site is open throughout the year. The maximum stay is for 2 weeks. However, this may be extended in discussion with the Gypsy Traveller Liaison Officer.
For further information and to apply for a short term pitch, please contact the Gypsy Traveller Liaison Officer. Each applicant is assessed on their own merits.
The Gypsy Traveller Liaison Officer is responsible for managing the site, processing bookings and providing support and assistance to residents. Their working time on site is Monday to Friday from 9.30am to 12.30pm.
Greenbanks, Banff - 
seasonal site
There are 20 pitches on the site and each pitch has its own chalet. The chalet contains a kitchen area with units, plumbing for a washing machine, a toilet and a separate shower room.
The chalets were upgraded during 2019 and 2020, to provide modern, updated facilities, replacing those which had been on the site for over 30 years. The images give an example of the facilities in the chalets. The images show: main area in the chalet with base units, wall cupboards and electric meter, sink unit in the main area of the chalet, and level access walk-in shower.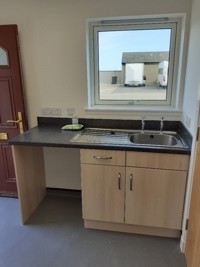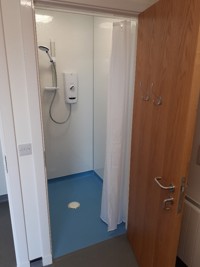 The site is owned by the council and operates on a seasonal basis from April to September. The part time Site Assistant at Greenbanks provides support, advice and signposting to the residents on site, as well as keeping the site safe and tidy.
For a pitch application form, please contact the Gypsy Traveller Liaison Officer.
Contact 
Gypsy Traveller Liaison Officer
We have a dedicated Gypsy Traveller Liaison Officer, who, in addition to managing the Aikey Brae site, helps to provide support, information and advice to the Gypsy Travellers community by signposting them to various services such as education and health. You can also contact our officer if you have any queries about the Gypsy Traveller community.
Gypsy/Traveller Liaison Officer
Telephone:  07795 238423
Email: gypsytravellerliaison@aberdeenshire.gov.uk
Hours of work: Monday to Friday from 9am to 5pm
---
Share this information