Tenants Newsletter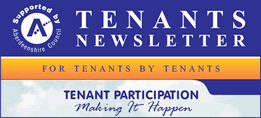 Tenants of the council receive a quarterly Tenants Newsletter by post. The newsletter is sent to all our tenants to keep them up to date with:
new information affecting tenants
tenant participation activities in Aberdeenshire
other housing or related issues of interest
You can submit articles, comments and views for consideration to be included in the newsletter. Most editions have a reply slip giving you the chance to get directly involved in the issues currently being addressed.
View the current edition of the tenants newsletter - June 2019 (pdf 780KB).
Older editions are available from the Tenant Participation Development Officer on request: email tenant.participation@aberdeenshire.gov.uk or call 01467 530713.
---
Share this information