Aberdeen Archaeological Surveys (1977 – 2007)
The Archaeology Service, from its formation under Grampian Region Council in 1976 and subsequent continuation under Aberdeenshire Council following local government reorganisation in 1996, undertook a programme of regular aerial photography for 30 years.
This successful programme, known as Aberdeen Archaeological Surveys (or AAS) led to many new sites being identified from the air. The sites were either only visible as cropmarks from above, or else were covered by thick vegetation and only visible through coverings of snow or low winter sunlight. The programme also provided images of many sites from above for the first time, the results of which are still being used today for the promotion and understanding of our rich heritage.
Summer Photography
By late spring and early summer, crops of barley, oats and wheat have become well established in arable areas. This is the time when cropmark sites begin to appear, most of which are only visible from the air. Weather plays a very large part in the formation of cropmarks. The drier the year the better the results.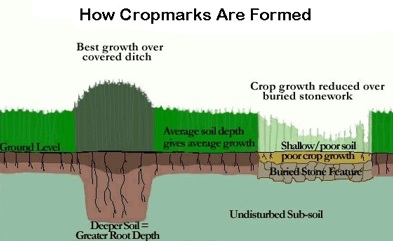 The term "cropmark" refers to the difference in crop growth which is visible - especially from the air. Such a difference can indicate buried features lying beneath the ground, many from the prehistoric period.
When earlier people built structures, they dug holes and ditches in the sub-soil. Over time these structures decayed, and the holes slowly filled with soil. As a result there would be a greater depth of soil in the disturbed areas, which in a dry summer will retain moisture longer than the surrounding undisturbed subsoil. The consequent stronger growth relative to the rest of the crop takes on the plan of the original buried feature, which then becomes visible from the air.
These cropmarks can appear in a variety of shapes and forms such as circles, ovals, rectangles and linear features.
Langleypark circular enclosure, Angus (NO65NE0025) showing as a cropmark.
 

Dunnottar Castle, Aberdeenshire (

NO88SE0007

) seen from the seaward side.
Winter Photography
In winter, when the vegetation dies down, new features can be revealed by the lower angle of the sun throwing shadows across the ground, emphasising slight banks and humps not normally visible.
This low light photography can show up the remains of deserted settlements, rig and furrow (the remains of strip cultivation carried out in medieval times), and prehistoric field systems. These features survive best in upland areas where subsequent land use has been sufficiently light to allow upstanding remains to survive.
A fall of snow can create dramatic shadows and contrasts when combined with strong, low-angled sunlight. Snow photography is especially good for showing up prehistoric field systems and round houses, and the defensive ditches of hillforts.
Turin Hillfort, Angus (

NO55SW0001

) showing in the low angled light.

White Caterthun Hillfort, Angus (

NO56NW0017

) with its ditches and entrances highlighted by snow.
---
Share this information