Aberdeenshire Council Archaeology Service War Memorials Recording Project
Since 2001, the Archaeology Service has been systematically recording all of the war memorials in Aberdeenshire, Moray and Angus, and using the information to update the Historic Environment Records for the three Local Authority areas.
Much of this work was carried out initially by local volunteers, whose assistance with the project has been greatly appreciated.
As well as making a photographic record of each memorial, short condition reports have been produced which serve to highlight the increasing problem of the deterioration of our commemorative memorials.
Each memorial recorded has its own entry in the Historic Environment Records, which is publicly accessible online. Here you can find information on the design, location, and artist's name, where known, along with information on the condition. Digital images accompany many of the entries, and where a transcript has been made this is also noted. Full transcripts of war memorials across the three Council areas are available on request from the Archaeology Service.
The war memorials range from small wall mounted plaques to large monumental structures; many are of exceptionally high quality, and some may even be unique in their design, such as the examples detailed below.
This war memorial, unveiled on the 3rd of June 1921, 
commemorates those from the Parish of Glass who were lost during the conflicts of World War I. It is a tall granite cross-shaped memorial, surmounted by a decorated cross, with angled plaques bearing the names of the dead. It also commemorates the safe return of all men and women of the Parish who were in active service during World War II, and may be unique as a war memorial documenting that no lives were lost.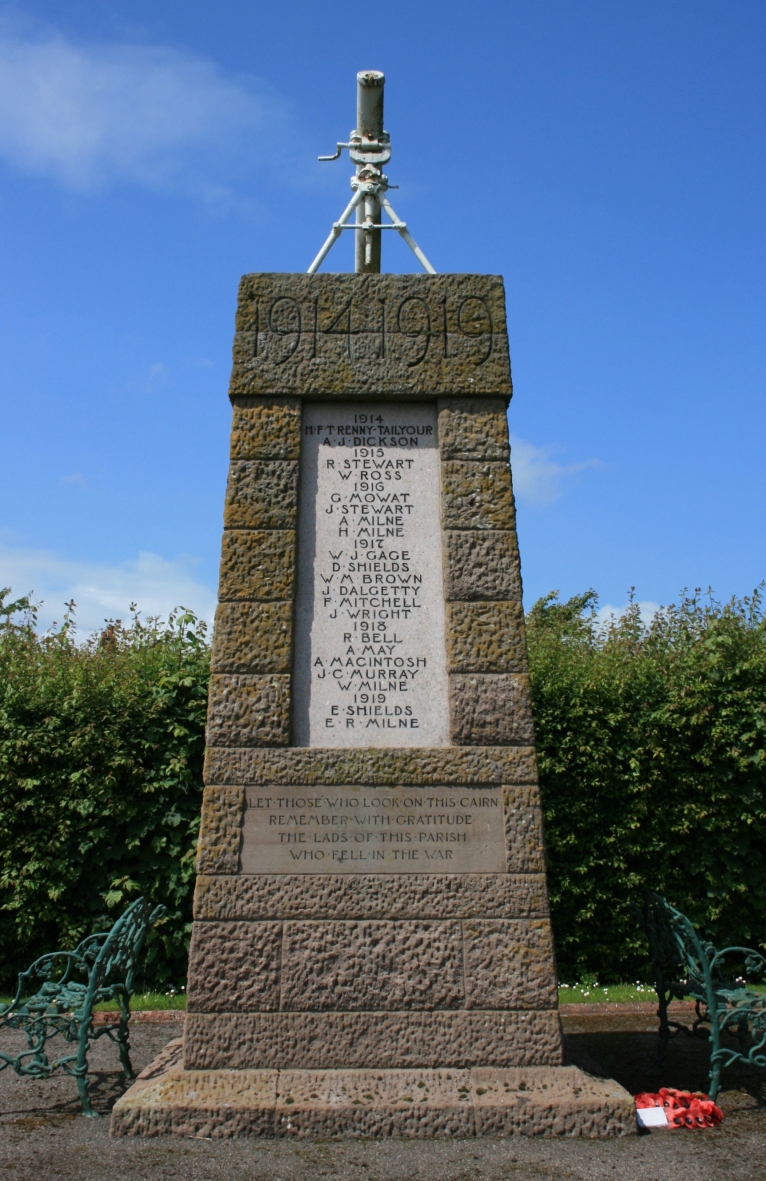 Hillside War Memorial was designed by Montrose sculptor William Lamb, who was himself injured in the Great War. It takes the form of a tapering square sided column of rough freestone blocks with polished granite tablets inset into two of the faces. It is surmounted by a British 3-inch Stoke Mortar, an unusual, and possibly unique, adornment perhaps symbolising the mechanised industrial warfare experienced by Lamb himself. The dedication serves as a poignant reminder of the young age of many of those who perished during World War I: LET THOSE WHO LOOK ON THIS CAIRN REMEMBER WITH GRATITUDE THE LADS OF THIS PARISH WHO FELL IN THE WAR
This war memorial honours those from Parish of Birnie who died during the two World Wars. Situated within Birnie Kirk graveyard, it is an ornate and unusual sandstone memorial which resembles the gable end of chapel, surmounted by a cross, with two inlaid plaques below a Romanesque carved arch.
Recording and transcribing so many war memorials has been a sobering experience for all involved, bringing home the reality of the huge loss of so many young lives. It also highlighted the devastating impact that the two World Wars must have had on communities, where in some cases whole generations of families were lost.
---
Share this information