Brandsbutt Stone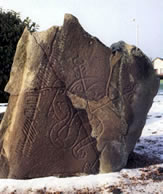 This stone, which was found nearby and broken-up to build into a dyke, is now restored.
As well as the incised crescent and V-rod and serpent and Z-rod symbols, this stone bears an ogham inscription.
It can be transliterated IRATADDOARENS, which has been linked with Eddarrnonn, a possible rendering of St. Ethernanus. Note the scales on the serpent.
Directions
Grid ref: NJ 759 224 Ordnance Survey Landranger Series sheet no. 38
Signposted at north end of Inverurie by-pass (A96) off Burghmuir Drive (which links Blackhall Road and North Street): turn up Brankie Road; the stone is at the corner of Gordon Terrace.
---
Share this information