Burghead
Despite the fact that much of this promontory fort has been destroyed by the expansion of Burghead village. its remains are still very impressive and consist of two enclosures - the 'upper' and 'lower' forts.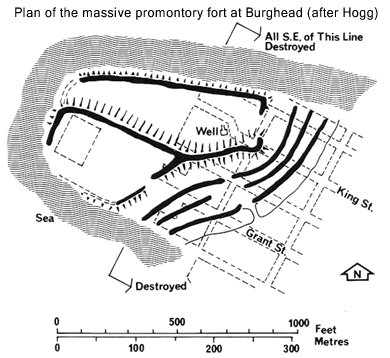 The original area enclosed amounted to nearly 3 hectares, making this site the largest of the early historic fortifications in Scotland.
Excavations since last century have recorded the presence of a timber-laced wall of massive proportions: this has been radio-carbon dated to Pictish times. An impressive rock-cut well (in care of Historic Scotland), which provided the inhabitants' water-supply and may have been used for rituals. It is signposted and may be visited.
Further support for the Pictish use of the site can be found in the numerous symbol-stones, depicting bulls which are recorded from the site and are now in Burghead and Elgin Museums and the Museum of Scotland, Edinburgh. However an earlier beginning cannot be ruled out.
Directions
Grid ref: NJ 109 691 - Ordnance Survey Landranger Series sheet no. 28
9 miles NW of Elgin at the seaward end of the modern village.
---
Share this information