Clava Cairns
Named after the group at Balnuaran of Clava, near Inverness, these burial cairns were erected in the early Bronze Age (c 2000 BC) with a stone circle surrounding either a chambered tomb or a ring cairn. They have a close but as yet imperfectly understood relationship with recumbent stone circles.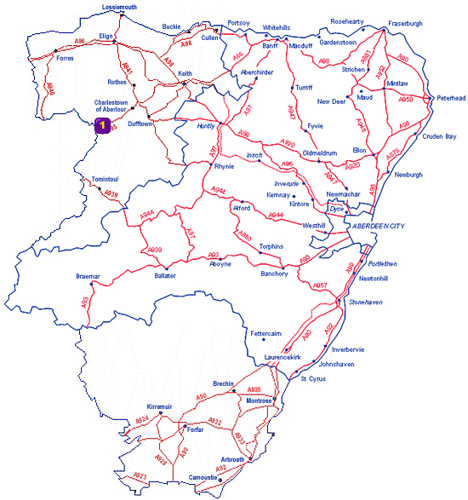 A Clava ring cairn, on a river terrace, consisting of a circular bank of small stones c 14 m diameter round a central space 5 m diameter. One kerbstone is visible in the W arc. Note the massive standing stone (2.74 m high) in the SW and the other stones which are the remains of the surrounding stone circle. Nine stones can be traced: 5 standing, 1 in the wall, 1 leaning and 2 fallen. C 9m to the SE of the largest stone are 2 upright slabs which may be the remains of another monument.
Plan of the Clava cairn at Marionburgh
The black symbols indicate upright stones. The outlined features are displaced standing stones.
Directions
Grid ref: NJ 183 364 - Ordnance Survey Landranger series sheet no. 28
7 miles SW of Aberlour, on a shallow bend, turn W off A95 down a broad track for 170 m to where the cairn lies in an enclosure on the S side.
---
Share this information