Stone Circles
For more suggestions of sites to visit, view our guide to 10 of the best Stone Circles in Aberdeenshire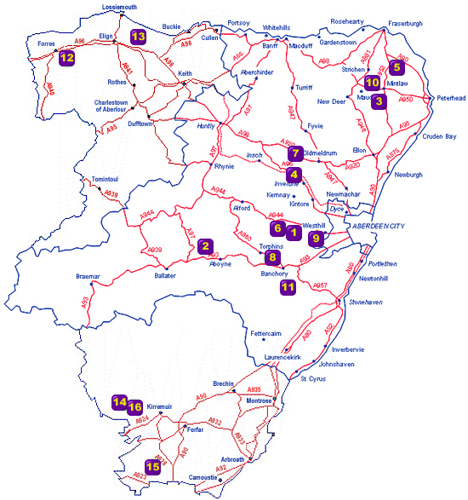 View the Recumbent and Standing Stone Circles.
Recumbent
9 Miles NW of Peterculter. Turn N off B9119 1 - miles W of Echt at Sunhoney Farm and park without obstructing farm operations. Walk past house, through gate and follow field boundary running W for 180 m to the tree clump containing the circle.
About 4 miles NW of Aboyne off the B 9094 Aboyne/ Tarland road. Park at the roadside at the Ancient Monument sign, - mile SE of Tarland, and walk 250 m up the track to the circle.
11 miles W of Peterhead. On B9029 1 - miles W of Old Deer, turn S up hill on minor road. In under - mile, at the third sharp bend walk up the track for about 200m, enter field on right and head SE for small fenced enclosure on Parkhouse Hill.
3 miles W of Inverurie: turn W off A96 in Inverurie, about 300m NW of junction with B9001, onto minor road. It is signposted to the site.
7 miles S of Fraserburgh. The circle is in a clump of trees in the SW angle of the cross-roads - mile S of the A952 and can be reached by a path leading S of the road running W from the cross roads to the A92 (at NK 027 572).
10 miles NW of Peterculter. Turn N off B9119 3 miles W of Echt, signposted Midmar Kirk, and in - mile park by kirkyard wall. Circle is in kirkyard.
5 miles NW of Inverurie. A large stone circle.
11 miles W of Peterhead: turn N off A950 about 3 miles W of Mintlaw on to a minor road to Strichen. In - mile enter Loudon Wood on the right. Walk 1 mile through woods to circle. It is signposted to the site.
About 3 - miles SE of Banchory. Turn W off A957 (Slug Road) onto a minor road at bridge over Burn of Skeloch. Keep SW and in 2 miles park in Forestry Commission car park in old quarry. Circle lies about 100 m up a ride N of the road. It is signposted to the site.
Standing
4 miles NW of Banchory. Turn off A 93 at Bridge of Canny 3 miles W of Banchory onto minor road. In 2/3 mile turn N and in 1 - miles stop at private entry, cross the road and walk W along track through trees for 150 m. Circle lies in trees some 100 m S of the track.
Turn south off B9119 Aberdeen/Tarland road at Garlogie, in 250m fork left; circle lies on left of road in 1km.
2 miles SE of Forres. On B9010, 250 m N of Rafford Kirk, turn E up hill on minor road for 2/3 mile to group of houses at Templestone. Walk along field boundaries immediately N of houses to stone setting, which is in within the NW corner of field, E of houses.
5 miles NE of Elgin. 1 mile E of Lhanbryde on A96, turn N on minor road to Urquhart. Circle lies about 1 mile north of Urquhart, at field edge in NW angle of crossroads.
Off the B951 on the N side of the Loch of Lintrathen. Track leads N towards site past Foldend House.
In a field on the N side of minor road between Tealing and Kirkton of Auchterhouse (W of A90), about 2 miles (3.2km) W of Tealing.
About 175m W of farm track, which runs N from B951.
---
Share this information