Electric vehicle chargers
There are many electric vehicle (EV) chargers situated in Aberdeenshire. On this page you can find out more about them:
Types of charges and locations
There are 3 different types of EV chargers. These are:
Rapid chargers (50kW DC/ 43kW AC)
Fast chargers (22kW AC)
Standard chargers (7kW AC)
You can find your nearest charging station on a map.
Tariffs
The tariff for the council's chargers is 24 pence per kWh, with no connection fee. Costs are reviewed on an annual basis with charges amended accordingly.
Report a fault
If you come across a charging station with a fault you can report it online. Please note that chargers are not operated by the council but are instead run by ChargePlace Scotland.
Once you report a fault ChargePlace Scotland (CPS) will assist you in fixing the unit over the phone if possible. If that is not possible, CPS will contact an engineer to fix the unit.
The engineer will visit the unit and assess the fault. The unit will be repaired by the engineer or the council will receive a quote to fix the unit and an engineer will revisit the site to carry out the works.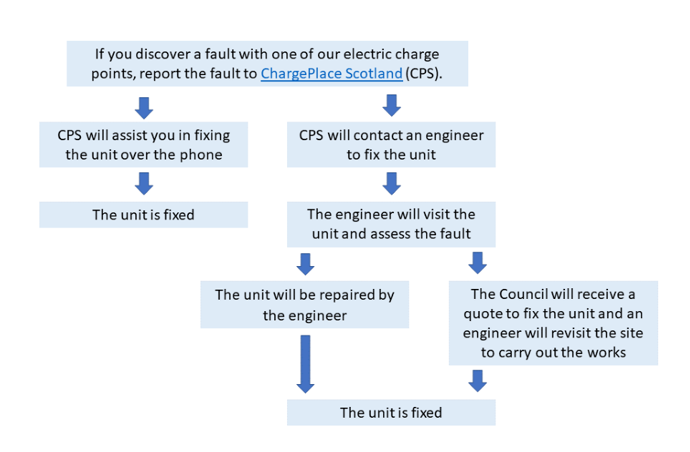 Reported 
charging station

faults

ChargePlace Scotland is responsible for managing reported faults.

The table below lists charger faults which have already been reported to ChargePlace Scotland as of 8th June 2022.

If you require further information on these faults please contact ChargePlace Scotland.
Charge point location and reference ID
ChargePlace Scotland fault reference
Date reported
Fault type
Current status
Inverurie Burn Lane - 50494
714786
23rd December 2021
AC outlet not working

Waiting for parts

Aboyne Station Square - 

51077

741006

26th March 2022

Screen error

Parts sent

Fraserburgh Seaforth Street - 51080
748342

17th April 2022

Screen, emergency stop button and chademo connector damaged

Waiting for parts

Inverurie Burn Lane - 51496
753234

2nd May 2022

CCS cable damaged

Waiting for parts

Turriff The Wynd - 52208
753824

3rd May 2022

CCS and AC cables damaged
Quote sent, awaiting PO
Huntly Nelson Street - 50495
755973

13th May 2022

CCS not working

CPS fault - 3rd party supplier
Aberdeen Woodhill House - 52869
756076

13th May 2022

CCS not working

Parts sent

Tarland Recreation Ground - 61426

756822

18th May 2022

AC cable damaged
CPS fault - 3rd party supplier
Inverurie Burn Lane - 51339


757346

21st May 2022

CPS stuck cable
Waiting for parts
Insch Martin Road - 60470
758548
28th May 2022
CCS not working
Engineer scheduled
Banff Greenbanks - 51753
758632
29th May 2022
CCS plug loose
Reported to CPS
Stonehaven Viewmount - 53853
758768
30th May 2022

CCS not working

Engineer scheduled
Macduff Industrial Estate - 51587
759178
1st June 2022

Comms error

Reported to CPS
Laurencekirk High Street - 51395
759607
5th June 2022

Not detecting cable on either socket

Reported to CPS
---
Share this information