Occupational therapy service
What the service offers
View Social Care and Health privacy notices: 
For more information or to ask for an assessment for occupational therapy services, please call 03456 08 12 06.
Rehabilitation and enablement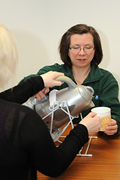 We want to help you be independent with as little disruption to your normal daily life as possible. Therefore, rehabilitation and enablement through training and re-education is important. Many people can be helped to live independently without the need for equipment or adaptations.
Some examples of how we can help you are:
teaching you new ways of doing everyday tasks
working with you to regain confidence after time in hospital, such as getting in and out of the bath
education of energy conservation techniques to manage fatigue and improve your ability to carry out important activities
training in techniques to prevent falls such as being aware of hazards in your home and what you can do to make it safer. We might suggest you lift loose rugs in case you trip
training in techniques to protect your joints to maintain range of movement and reduce strain on damaged joints
educating on positioning – giving advice to parents on the correct seating position for their child to promote normal movement patterns
training and supporting carers to help with practical tasks, such as people handling techniques
Equipment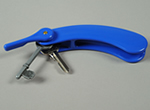 The correct equipment can promote independence, encourage normal movement and may prevent further deterioration.
We have a range of specialist equipment to help you, or your carer help you, with everyday tasks. There's no charge for this. Alternatively, there are many everyday items - such as electric can openers and large handled cutlery - stocked by local stores which can make your life easier. We can give advice if you are thinking about making a purchase.
Our leaflet Equipment to help you do everyday things (pdf 211kb) gives information on:
the help available from local authority and health care services
buying equipment for yourself
finding out what's available and how to buy
useful sources of information and advice
examples of equipment suppliers
 Specialist items can range from small equipment to help with getting on and off the toilet, to larger equipment to help you get up and down stairs.
Some examples of how equipment can help are:
providing equipment to help keep independence for those living with a degenerative physical condition
provision of a specialised bath lift to help a parent to bath a child in a supported position
provision of a hoist fixed to the ceiling to help carers to safely move a person from wheelchair to toilet
 Equipment provided must be because you have been assessed as needing it, not just that it is your preference.

How long can I keep the equipment?
Equipment is provided on loan for as long as you need it, unless you are told otherwise.
If there are any problems with the equipment you should contact us to arrange repair or replacement.

Direct payments
Under the Direct Payments Act (1996) we can make arrangements to make a direct payment for you to purchase the specialist equipment you have been assessed as needing.
This means that instead of us supplying the equipment, you would buy it yourself. However, we must be satisfied that you needed the equipment and that you are able to manage the direct payment appropriately.
Any direct payments that are not used appropriately must be paid back to us.
More information is in Self-directed support.

What do I do if I no longer need the equipment?
We can arrange to collect your equipment if it is no longer needed. Please call us on 03456 08 12 06 if you need some equipment collecting.
Some items may not be suitable to return for health and safety reasons. Your occupational therapist or assistant will be able to advise you.

Is there any equipment that you will not provide?
There are types of equipment which we would not provide. But we may be able to give you advice on where you can get these.
Examples of equipment we do not provide include:
Mobility equipment
scooters
walking sticks
walking frames (e.g. Zimmer)
wheelchairs
Equipment required to manage an illness or health problem
commodes
footstools
urinals
incontinence pads
Equipment to help with nursing care
specialised beds
bed rails -such as cot sides 
Everyday items widely available from retailers
kitchen aids, such as jar openers
household aids, such as helping hands
washing aids, such as long handled sponges
dressing aids, such as long handled shoehorns
eating and drinking aids, such as cutlery

Adaptations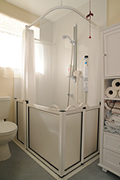 The outcome of the assessment may be that an adaptation is required to meet your needs. In this case, the occupational therapist or assistant will make a recommendation for the adaptation to be installed.
The process for arranging and funding the adaptation will vary depending on:
whether it is classed as being a minor or major adaptation
who owns the property
Minor adaptations
These are small adaptations that are inexpensive and easily completed. They include the installation of grab rails, external handrails, and banisters. 
Major adaptations
These are adaptations that may require altering the structure or fabric of the building. Depending on the work involved, it may require planning permission and / or a building warrant. They include shower installations, permanent ramps and step alterations.
An adaptation will only be recommended if you are assessed as needing it, not just that it is your preference.

Funding for adaptations
Council houses
The housing service will fund adaptations recommended by an occupational therapist.
Housing associations
Housing associations apply for grants from Scottish Homes to fund adaptations recommended by an occupational therapist.
Private houses
Aberdeenshire Care and Repair fund adaptations, supported by an occupational therapist, to privately owned homes or private tenants' homes. You need to be over 60 and/or have a disability to be eligible.

Information and advice
Our occupational therapy team can give information and advice on issues relating to your illness or disability.
This may include:
information about your particular disability or health problem
advice on other services that are available to you or your carer
advice on social and leisure activities and how to access them
advice on re-housing due to medical needs
advice or information on welfare benefits and help with claims
advice or information on support groups / charities
offering support in coming to terms with disability
Contact us
To make a referral, or for further information, please call us on:
03456 08 12 06
between 8 am and 5 pm Monday to Friday.

Referral to other agencies
Following your assessment we may decide your needs would be best met by another service.
Our occupational therapy team works closely with other social work, health and care staff. We can make contact with other professionals, services and agencies that may be able to offer you the support and help you need.
These may include:
GPs
district nurses
physiotherapists
home care supervisors
care managers
health visitors
day centres
community alarm
meals at home
voluntary organisations
mobility and rehab service (for wheelchairs)

---
Share this information