Graffiti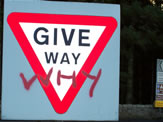 Graffiti can be offensive, cause damage to property and can make our communities look untidy and uncared for.
Whilst the Council has powers to enforce graffiti removal on certain organisations including education buildings and transport operators, partner organisations recognise that the owners of such property are also the victims of antisocial behaviour and that the cost of removing the graffiti can be substantial.
With this in mind, the Aberdeenshire Community Safety Partnership is using some of the funding it receives under the Scottish Executive's antisocial behaviour award scheme to fund an enhanced graffiti removal service to ensure graffiti is removed as quickly as possible.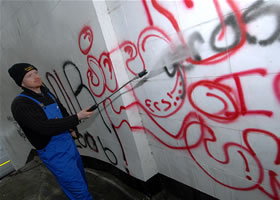 The service is free and is available to members of the public and businesses who have suffered from graffiti anywhere within in the Aberdeenshire area.
Partner agencies are committed to reducing the prevalence of graffiti and vandalism throughout the area, however we need the help of local people and businesses to report incidents of graffiti.
Members of the public and businesses who have suffered from graffiti should:
Graffiti is classed as vandalism which is a priority crime in Aberdeenshire. As a result, information on the graffiti incident itself will be automatically passed to Police Scotland.
When dealing with your call, the call handler from the Wasteline will ask permission to forward your personal details to Police Scotland - there is no obligation to provide this information and reports can be made anonymously if preferred.
---
Share this information