Ranger Service
We have a team of 6 Ra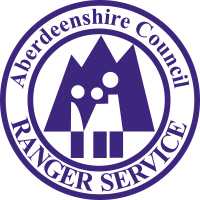 ngers based across Aberdeenshire to help residents and visitors discover and enjoy our rich natural and cultural heritage:
Our aims 
In common with other Ranger Services in Scotland, we have 3 main aims that include:
providing a warm welcome and provide support to help people enjoy the outdoors
increasing awareness, understanding, care and responsible use of the natural and cultural heritage
supporting the sustainable management and use of the outdoors to meet a range objectives
Events
We have a wide range of events organised throughout the year to help residents and visitors explore and enjoy our countryside. You can follow our Eventbrite page, where you can make online bookings.
School and group sessions
We offer support to schools, colleges, universities and other organised groups to access, understand and enjoy our natural and cultural heritage. We welcome bookings from organised groups where there is a common theme or shared interest. Unfortunately, we are unable to accept bookings groups bookings for events such as birthday parties, stag or hen parties. Find out how to request a session.
COVID-19 guidance
In line with the Scottish Governments COVID-19 advice, Aberdeenshire Council Ranger Service will continue to take action to keep our staff and members of the public safe. Use 'Covid sense' to help protect yourself and others. If you are unwell with COVID-19 symptoms or have a fever, you should follow the 'Stay at Home' guidance available on NHS Inform.
If you are attending a public, group or school session with us, we ask that you cover your nose and mouth if coughing or sneezing and wash your hands before and after the session.
We also ask that attendees maintain some distance between people from a different household and respect those wearing a distance aware badge or lanyard.
If you have any questions or concerns about our COVID-19 guidance please email ranger.service@aberdeenshire.gov.uk or call the Ranger Service Co-ordinator on 01467 535404.
Volunteers
We welcome volunteers, if you wish to volunteers with us you can view our current volunteering opportunities. If you are part of an organisation and are looking to organise a conservation day please contact us.
Sharing knowledge and skills
Rangers are happy to share their skills and knowledge with teachers and other professionals seeking to develop outdoor learning opportunities. Please contact us to discuss your requirements.
Tree planting and aftercare
Our team of rangers have produced a video to provide all the information you need to plant a new tree or wood, and how to look after them when they are in the ground.
Tree planting and aftercare video transcript (PDF 97KB).
Responsible outdoor access
You must be responsible when accessing our countryside and respect the interests of others, care for the environment and take responsibility for your own actions.
The Ranger Service can provide advice to users, communities and land managers on access rights and responsibilities. We have produced printable posters and information leaflet for use by community groups and land managers:
You can find out more about your access right and responsibilities by visiting the Scottish Outdoor Access Code website. Information about upholding access rights is available on our website.
Wild camping
The Scottish Outdoor Access Code (SOAC) allows for responsible access, including wild camping, where it is respectful of other countryside users and does not harm our natural or cultural heritage.
Wild camping can take place in unenclosed land where access rights apply. When choosing an area to wild camp you should consider the cumulative impacts of campers on the environment.
Wild camping is:
Accessed on foot or cycle
Light weight, small one or two person tents either singly or in pairs
Responsible outdoor toileting, burying or removing waste
Responsible outdoor cooking, using a stove where possible
Leaves no trace
Wild camping is not:
Accessed from a vehicle
Large or family style tents
Groups of tents or gazebos
Disrespectful to other countryside users and communities
Harmful to our natural or cultural heritage
Camping which is not wild camping is not permitted under responsible access rights and should take place in a designated campsite.
You can find out more information on designated campsites from Visit Scotland.
You can find out more about responsible wild camping on the Scottish Outdoor Access Code website.
---
Share this information